Epicurean Butter: For Any Occasion, or None at All
"Epicurean" is the quality of having luxurious and indulgent taste in food or drink. We're determined to always make butter that makes you feel epicurean both in the kitchen and at the table. 
Epicurean Butter is your crazy-versatile, no-fuss kitchen staple. It's flavored butter that combines the finest ingredients with time-saving convenience to create an easy, reliable way to make food taste better without the extra prep time or long grocery list. Cook at home with ease every single day with Epicurean Butter. Anyone (yes, anyone) can make chicken piccata.
We beleive butter can be the star ingredient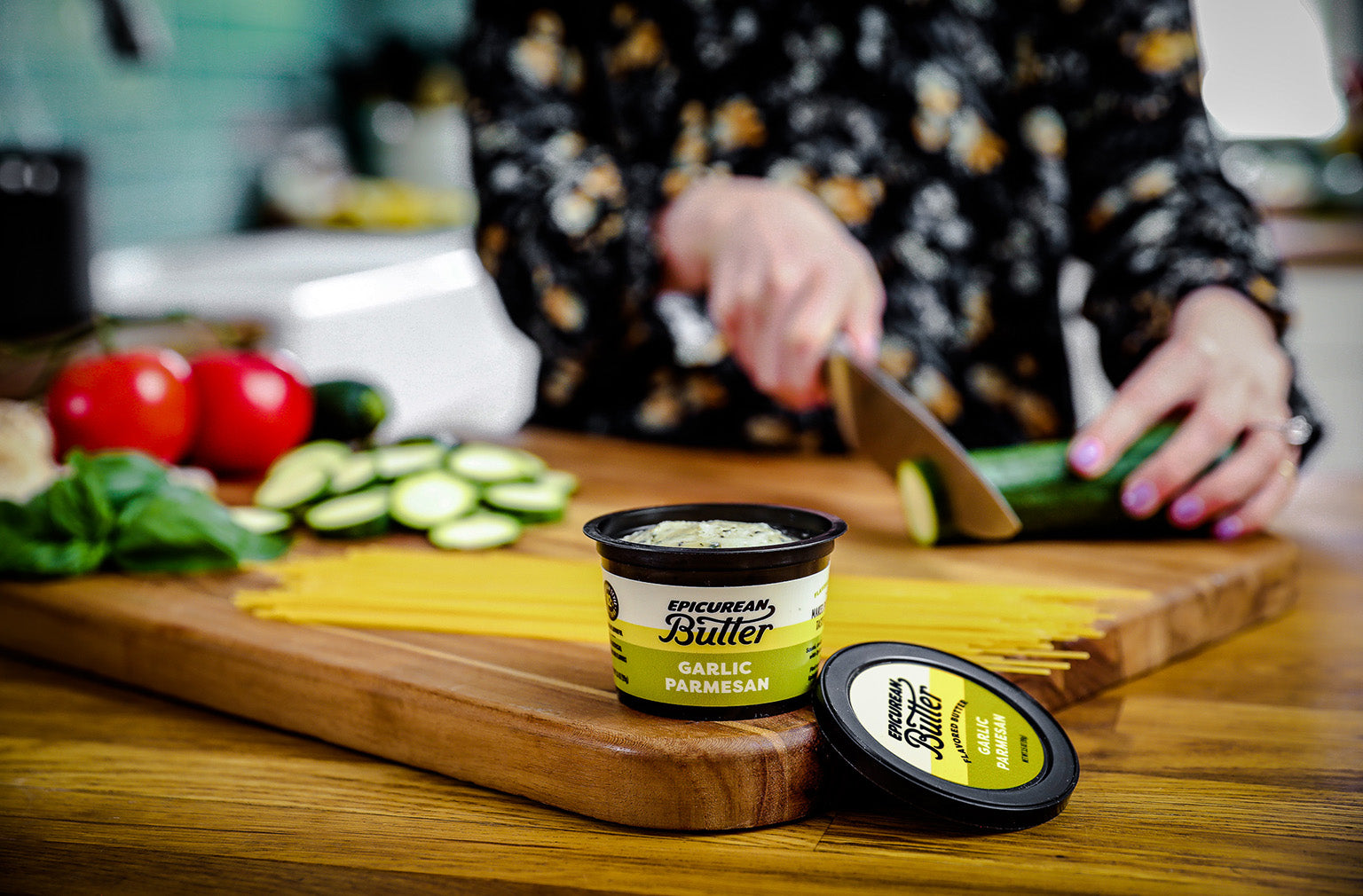 Helping You Make Restaurant-Quality Food Easily at Home Since 2004
It's hard to compare anything to the experience of a perfectly cooked meal and wonderful night out at your favorite restaurant. For some reason, the ambiance, the service, and the chef-prepared foods make everything a little more satisfying.
That's the exact feeling founder Chef John Hubschman, and his wife, Janey, wanted to help people create from the comfort of their own home when they launched Epicurean Butter. Using John's executive chef expertise (he was the executive chef in fine dining restaurants for over 20 years) and Janey's robust sales experience, the two ran Epicurean Butter as a self-funded family business for 16 years before expanding their team so they could offer more incredible flavors of butter to even more people.
Fresh Flavors, Real Ingredients
We're crazy about flavor and love to experiment with unique tastes. The very first Epicurean Butter flavor that John created was Blueberry. We've also had flavors like Cranberry Orange, Cocoa Coconut, and  Caramel Sea Salt (just to name a few). Our chefs are always innovating and perfecting what you want most, from fan-favorite Roasted Garlic Herb to decadent Black Truffle, and even seasonal flavors like Pumpkin Spice. 
Roasted Garlic Herb is the flavor that put Epicurean Butter on the map and in retail stores, restaurants, and meal kits. It's still our most-loved flavor, thanks to its versatility and ability to make cooking with garlic less of a chore. Now instead of worrying about chopping or burning garlic, you get all the flavor with just one (or more) scoops of butter.
Epicurean Butter started as traditional "finishing" butter for topping steaks and garlic bread, but it quickly evolved into a kitchen staple and a time-saver for everyday food.
Experience the Difference
Our in-house chefs spend all their time perfecting flavored butter, so you don't have to. We know you love a range of flavors and like to experiment with taste—from sweet to savory and everything in between. That's why we're constantly working on new ways to make everything taste better with butter. You can focus on what's important to you while we do what we do best. When you have a flavored butter like Epicurean Butter, you will be as obsessed with making delicious food as you are with eating it.
Watch below to learn more about the evolution and growth of a family-owned business, from the launch of the single-use packets for meal delivery kits like HelloFresh to our new facility created so we can get Epicurean Butter into more homes and kitchens.